How to restore shine?
With regard to cleaning, special attention must be paid to every single detail, especially when it comes to the hygiene of hospitals and our homes. Proper hygiene needs to be maintained even several times a day, and the only help in this process can be provided by appropriate surface hygiene products. The same goes for maintaining the hygiene of glass surfaces, floors and toilets at various hospital wards, such as the sterilization ward or operation theaters. In order to protect and at the same time clean such surfaces, only the best products should be used. At our homes, as well as in hospitals, we fight a never-ending battle with limescale, which keeps damaging our sanitary facilities.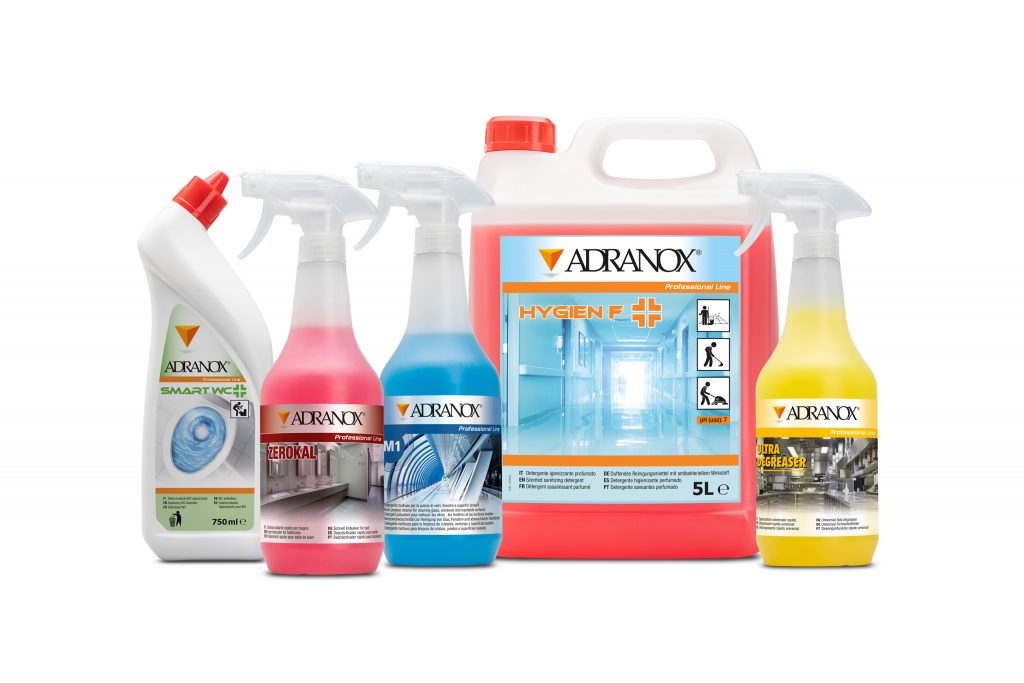 It's not enough to only wipe sanitary facilities if we want to make them shiny again. A proper effect can be achieved solely if we create a protective layer against limescale. This very effect can be achieved by using Zerokal, a product by Adranox.
But the Adranox company has provided us with solutions for treating various kinds of surfaces with which we have struggled so far. Ultra degreaser,with its amazing formula, is suitable not only for cleaning greasy surfaces, oils, organic and inorganic types of grease, but also for protecting our skin in case of contact. It is also characterized by a pleasant smell which does not create discomfort.
When it comes to cleaning floors, we can rest assured that they have also been properly cleaned, because with Hygien F, we get a3in1 effect – cleanliness, disinfection and fresh fragrance.
Moreover, one of the most difficult cleaning tasks is treating glass surfaces, which can sometimes give us quite a headache. But the Adranox company has a perfect solution to this problem as well. With M1, it's never been easier to remove stains and dirt from glass surfaces. In only one motion, glass is given back its old shine and a pleasant, refreshing fragrance.
And finally, to complete this perfect collection of solutions for professional hygiene, we cannot disregard products for treating toilets. They erradicate all bacteria, protect the toilet surface and remove absolutely all dirt.
For perfect shine… one step ahead, your DND Commerce.